🎟CINEHASSEE IS HERE! 💻
The V Cinehassee: Iberoamerican Film Festival will have a hybrid version this year! Some movies will be screened at the Askew Student Life Center, and some of the movies will be available online asynchronous for your viewing convenience, for one week according to the schedule shown in the flyer. 🎬
The theme is: Indigenous communities. There will be Q&A sessions for the online movies (which will be synchronous) for you to immerse yourself in the cultures that will be seen in the various films. 🎙
We just ask you to register so that we can send you the respective information to access the films that are going to be screened online.
Please click fill out this form to register 🎥: https://forms.gle/cCEnhjH3F9FuFqjh8 !🎞 Otherwise, just join us at the Askew Student Life Center, according to the flyer.
The screenings are as follows:
September 12 - 17: The Spirit of the Ancestors (Te Kuhane o te Tupuna: El Espiritu de los ancestros) | *ONLINE
September 22: Yvy Maraey, Land Without Evil | 6:30 PM @ ASLC
October 8 - 15: Eternal Amazon (Amazonia Eterna) | *ONLINE
October 21: El sueño del Mara'akame | 7:00 PM @ ASLC
October 28: Ciro and Me | 4:00 PM @ ASLC

HIGSA is glad to announce that Ciro and Me has been rescheduled.
The movie will be screen on Thursday, October 28th at 4:00pm in the ASLC.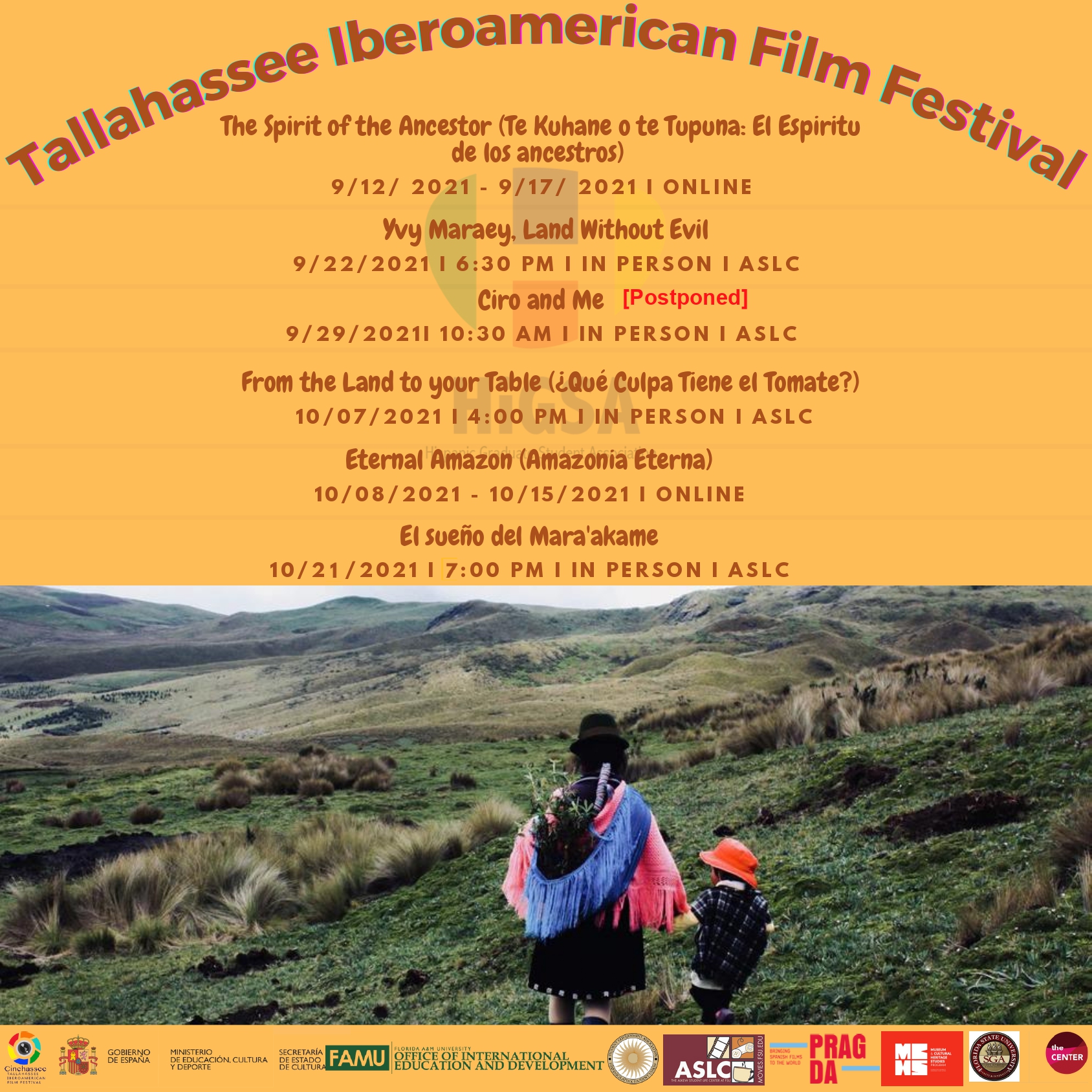 ​
WE HOPE YOU JOIN US!
Cinehassee 2021 – HIGSA
Cinehassee streams a series of films from Hispanic countries, as well as those that address topics related to the Hispanic culture. The main goal of the Festival is to provide multiple viewpoints, inform, discuss, address complex social issues, strengthen ties between our diverse community, and raise awareness on issues concerning the characteristics, importance, and impact of the Hispanic people and their idiosyncrasies.
HiGSA is an organization composed mainly, but not exclusively, of Hispanic graduate students. It welcomes anybody that is interested in learning about Hispanic culture or practicing Spanish. Part of HiGSA's mission is to promote their culture at Florida State University and Tallahassee, and to generate awareness of social and political issues in Iberoamerican countries and their relationship with the USA. Films are a very effective mean of achieving these ends. For this reason, the organization has made an effort to screen films from different countries and different topics related to its mission. We believe that diversity is valuable in any democratic society, and Cinehassee contributes to foster this value by exposing the FSU and Tallahassee community to topics, problems, ideas and realities that are different from those experienced in the city's day to day.
---
September 12 - September 17
The Spirit of the Ancestors (Te Kuhane o te Tupuna: El Espiritu de los ancestros)
Leonardo Pakarati / Chile / 2015 / 63 Min / Spanish with English subtitles
The Spirit of the Ancestors tells the story of Moia Hoa Haka Nana'ia, one of Rapa Nui's (Easter Island) sacred spirits, also known as the Stolen Friend in the island. Colonizers took the massive, iconic carving 100 years ago, and is now one of the countless living objects now housed in museums worldwide.
This documentary follows three generations of the Pakarati family as they travel to Europe to try to reclaim the Stolen Friend, bring his spirit home and ensure a strong future for those to come.
---
September 22
Yvy Maraey, Land Without Evil
Juan Carlos Valdivia / Bolivia/ 2014 / 105 Min / Spanish and Guaraní with English Subtitles
A Bolivian filmmaker and a Guaraní Indian travel together through the forests of southeastern Bolivia to make a film about the Guaraní people. The starting point is a 1911 film by Swedish explorer Erland Nordenskiöld. But today's reality turns out to be much more intense than the nostalgia for a lost world. In Yvy Maraey, the white man (the director) and the Indian create and interpret their own characters, walking the thin line between documentary, fiction, and performance. Far from observing another culture, we are watched and questioned about our identity in a country undergoing enormous social, political, and historical change as it struggles to create an intercultural society. Yvy Maraey is a quest for the knowledge within, seen through the eyes of the other. Here learning comes from another form of seeing—listening. The film combines reality with the epic tale of a heroic indigenous nation.
---
October 7
From the Land to your Table(Que Culpa Tiene el Tomate?)
Jorge Coira, Alejo Hoijman, Josué Méndez, Marcos Loayza Montoya, Carolina Navas, Alejandra Szeplaki, Paola Vieira / Argentina, Bolivia, Brazil, Colombia, Peru, Spain, Venezuela / 2011 / 107 Min / Spanish, Portuguese, Galician, Aymara with English Subtitles
Seven countries, seven popular markets, seven cultures. The first documentary of its kind, From the Land to Your Table shows the perspectives of seven Ibero-American filmmakers as they capture the conditions and cultural diversity of popular produce markets in their individual countries. Created collectively, each segment in this brilliantly executed documentary retains its own unique style and tone, highlighting the fascinating stories of the foods that eventually wind up on our tables. A whole new world reveals itself in every chosen character and image, illuminating the diverse socioeconomic conditions of these countries through the fascinating stories of the foods that we eat and the people who sell and produce them.
---
October 8 - October 15
Eternal Amazon (Amazonia Eterna)
Belisario Franca / Brazil / 2013 / 88 Min / Portuguese with English subtitles
The Amazon is a vast laboratory for sustainable experiments that are revealing new relationships among human beings, corporations, and the natural heritage crucial for life on the planet. This is where the guidelines are being drawn up for a new global economic model: the green economy. With an astonishing soundtrack and cinematography, Eternal Amazon presents a critical analysis of how the world's largest tropical rainforest is understood and utilized. Exploring the Amazon's five million square kilometers—home to 20% of the world's freshwater reserves—the film asks whether it is possible for humans to make sustainable use of the rainforest by featuring nine successful projects for sustainable forest use that directly benefit the local population and foster good economic partnerships. Experts like economist Sergio Besserman, ecologists Bertha Becker and Virgilio Viana, and Amazonians themselves explain activities such as agriculture, fisheries, and animal husbandry. The film portrays the daily lives of the forest people as the guardians of this great natural heritage that, if properly managed, could last into eternity.
---
October 21
El sueño del Mara'akame
Federico Cecchetti / Mexico/ 2016 / 90 Min / Spanish with English subtitles
Nieri is a young Huichol Indian whose dream is travelling with his band to play a concert in Mexico City. But his father is a Mara'akame (Huichol Shaman) and has different plans for his son. He must find the Blue Deer in his dreams in order to become a Mara'akame and follow in this tradition. Nieri travels to Mexico City where he gets lost but finally finds his vision.
---
October 28
Ciro and Me
Miguel Salazar / Colombia / 2018 / 110 Min / Spanish with English Subtitles
Ciro Galindo was born on August 29, 1952, in Colombia. Wherever he went, war always found him. His children were recruited by the armies of war; his family was repeatedly displaced; and his wife Anita, an indigenous woman, died of sadness. Foreign to the system, but a victim of the system, Ciro has led a heroic anonymous struggle to live life on his own terms.
After twenty years of friendship, I understood that Ciro's life sums up the history of Colombia. He is a privileged on-site witness of a war that seems distant and confusing. Ciro and Me narrates Ciro's journey to meet his past in a quest to rebuild his life and create a future for him and his son.
title-inside title-centered
2