The Hispanic Graduate Student Association (HiGSA) is proud to present Cinehassee, an Iberoamerican Film Festival that celebrates their people, artists, makers, and all related to these shared cultures and communities.
The festival is taking place in celebration and context of the Hispanic Heritage Month. It is free and open to the public, and there will be free popcorn, food, dance, discussion panels with film directors, actors, and professors discussing the relevant issues. The screenings are as follows: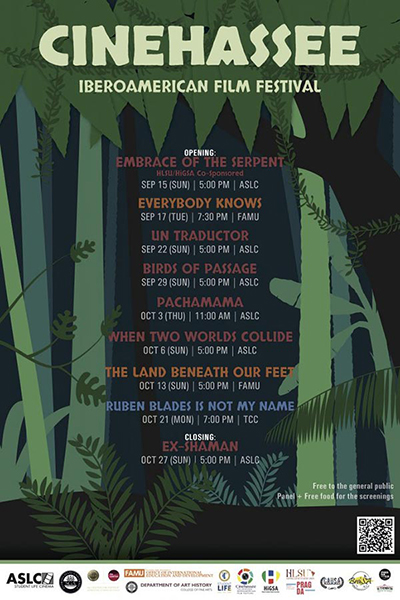 ​
Cinehassee 2019 – HIGSA
Cinehassee streams a series of films from Hispanic countries, as well as those that address topics related to the Hispanic culture. The main goal of the Festival is to provide multiple viewpoints, inform, discuss, address complex social issues, strengthen ties between our diverse community, and raise awareness on issues concerning the characteristics, importance, and impact of the Hispanic people and their idiosyncrasies.
HiGSA is an organization composed mainly, but not exclusively, of Hispanic graduate students. It welcomes anybody that is interested in learning about Hispanic culture or practicing Spanish. Part of HiGSA's mission is to promote their culture at Florida State University and Tallahassee, and to generate awareness of social and political issues in Iberoamerican countries and their relationship with the USA. Films are a very effective mean of achieving these ends. For this reason, the organization has made an effort to screen films from different countries and different topics related to its mission. We believe that diversity is valuable in any democratic society, and Cinehassee contributes to foster this value by exposing the FSU and Tallahassee community to topics, problems, ideas and realities that are different from those experienced in the city's day to day.
---
September 15
"Embrace of the Serpent" (El abrazo de la Serpiente)
CIRO GUERRA / ARGENTINA, COLOMBIA, VENEZUELA / 2015 / 125 MIN / Spanish with English subtitles Life story of an Amazonian shaman, and two scientists, that with time become the first men to travel the Northwest Amazon in search of a sacred and psychedelic plant. Their adventures are wrapped around the beauty of nature and the effects of colonialism.
---
September 17
"Everybody Knows" (Todos lo saben)
ASGHAR FARHADI / FRANCE, SPAIN, ITALY / 2018 / 132 MIN Spanish with English subtitles Laura has returned to her hometown outside Madrid for a wedding. The mood is festive and faces from the past are present. When Laura's daughter goes missing, and ransom messages arrive, the reunion takes a hard turn into nightmarish territory.
---
September 22
"A Translator" (Un Traductor)
RODRIGO BARRIUSO, SEBASTIÁN BARRIUSO / CUBA, CANADA / 2018 / 107 MIN / Spanish and Russian with English subtitles A Russian literature professor at the University of Havana is ordered to work as a translator for child victims of the Chernobyl nuclear disaster when they are sent to Cuba for medical treatment.
---
September 29
"Bird of Passage" (Pájaros de Verano)
CIRO GUERRA, CRISTINA GALLEGO / COLOMBIA, MEXICO, DENMARK / 2018 / 125 MIN/ Wayuu, English, and Spanish with English subtitles The origins of the Colombian drug trade, as seen through eyes of an indigenous Wayuu family that becomes involved in the booming business of selling marijuana to American youth in the 1970s. When greed, passion and honor collide, a fratricidal war breaks out and puts their lives, culture and ancestral traditions at stake.
---
October 3: Hispanified Day
"Pachamama"
JUAN ANTÍN/ FRANCE, LUXEMBURG, CANADA / 2018 / 72 MIN / English A boy living in a small village in the Andes Mountains dreams of becoming a shaman.
---
October 6
"When Two Worlds Collide"
HEIDI BRANDENBURG, MATHEW ORZEL /  PERU, USA,  UK  / 2016 / 109 MIN /  English and Spanish with English subtitles An indigenous environmental activist takes on the large businesses that are destroying the Amazon.
---
October 13
"The Land Beneath Our Feet"
GREGG MITMAN, SARITA SIEGEL / USA,  UK,  Liberia  / 2016 / 60 MIN /  English and Spanish with English subtitles Uprooted by war, a young Liberian man returns from the U.S. with uncovered film footage depicting events from Liberia's past.
---
October 21
"Ruben Blades Is Not My Name" (Yo No Me Llamo Ruben Blades)
ABNER BENAIM / ARGENTINA, COLOMBIA, PANAMA / 2018 / 85 MIN/ English and Spanish with English subtitles The life and career of the salsa singer and songwriter.
---
October 27
"Ex-Shaman"
LUIZ BOLOGNESI / BRAZIL / 2018 / 81 MIN /  Tupi and Portuguese  with English subtitles Since their contact with the Western world the Paiter Suruí, have been exposed to changes. Smartphones, weapons and social media have replaced their way of life.  Illness is a risk for the community unable to isolate itself. With persistence, a former shaman searches for a way to restore the old vitality to the village.
title-inside title-centered
2