🎟CINEHASSEE IS HERE! 
The VI Cinehassee: Iberoamerican Film Festival will have an in-person version this year! The movies will be screened at the Askew Student Life Center, according to the schedule shown in the flyer.
The theme is: Human Rights and Regional Politics🎬 With these topics, the 2022 edition of Cinehassee will explore a dimension of Hispanic past and contemporary history that has had, and still has, tremendous impacts on Hispanic countries' culture and societies.
In addition to the screenings, we will serve Hispanic/Latin American food in every event and we will also provide free popcorn bags for the first 30 attendants in each film!
The screenings are as follows: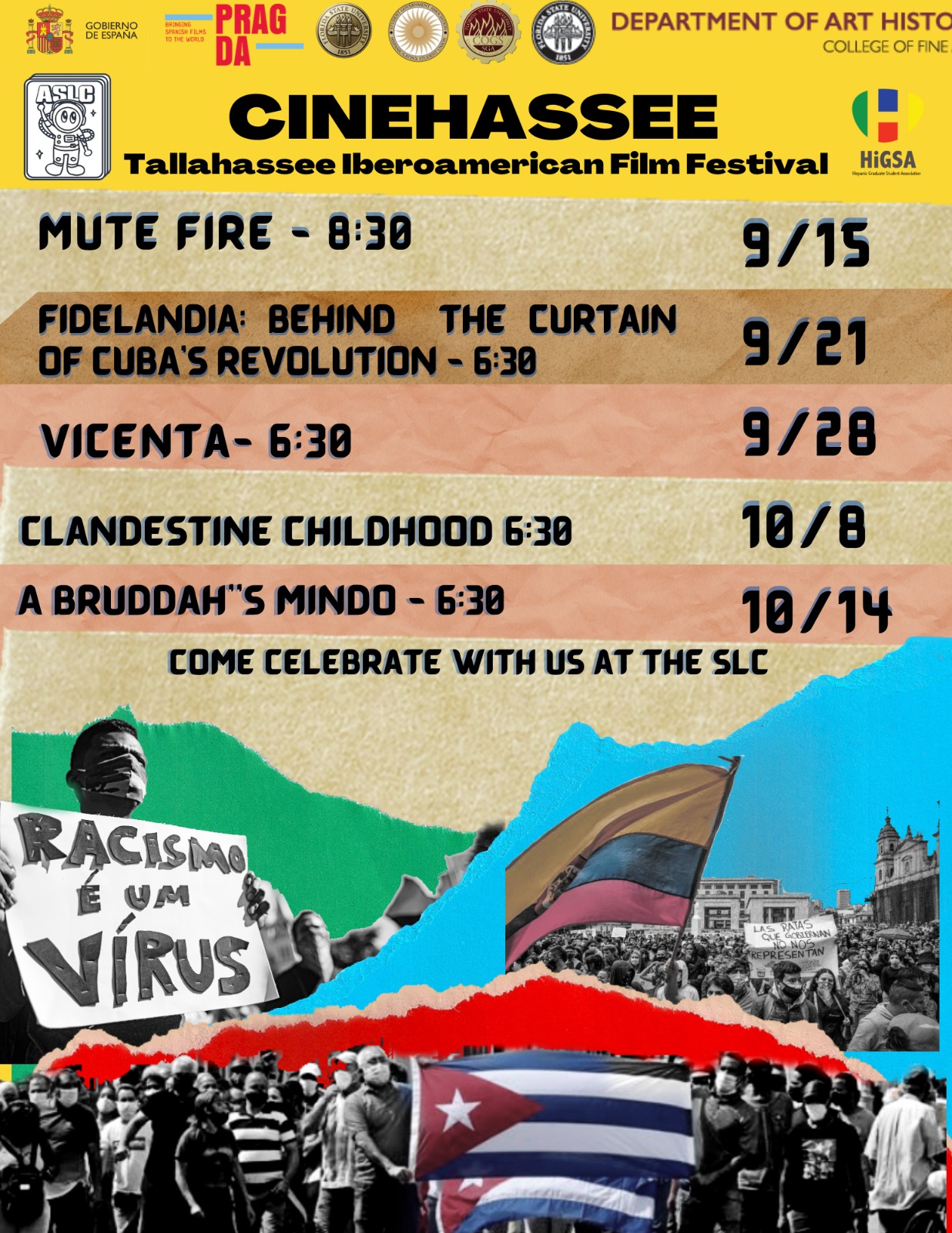 Cinehassee 2022 – HIGSA
Cinehassee streams a series of films from Hispanic countries, as well as those that address topics related to the Hispanic culture. The main goal of the Festival is to provide multiple viewpoints, inform, discuss, address complex social issues, strengthen ties between our diverse community, and raise awareness on issues concerning the characteristics, importance, and impact of the Hispanic people and their idiosyncrasies.
HiGSA is an organization composed mainly, but not exclusively, of Hispanic graduate students. It welcomes anybody that is interested in learning about Hispanic culture or practicing Spanish. Part of HiGSA's mission is to promote their culture at Florida State University and Tallahassee, and to generate awareness of social and political issues in Iberoamerican countries and their relationship with the USA. Films are a very effective mean of achieving these ends. For this reason, the organization has made an effort to screen films from different countries and different topics related to its mission. We believe that diversity is valuable in any democratic society, and Cinehassee contributes to foster this value by exposing the FSU and Tallahassee community to topics, problems, ideas and realities that are different from those experienced in the city's day to day.
---
September 15
Mute Fire (Pirotecnia)
FEDERICO ATEHORTÚA ARTEAGA / COLOMBIA / 2020 / 83 MIN / Spanish with English subtitles
In the tradition of Harun Farocki and João Moreira Salles, in this personal film essay, Federico Atehortúa Arteaga examines the relationship between film footage, the events of the war in Colombia, his family's story, and the origins of cinema in Colombia.
On March 6, 1906, four people were executed in the streets for the attempted assassination of the then president of Colombia, Rafael Reyes. The representation in images of this event is considered the beginning of the cinema in Colombia. Arteaga embarks on a deep investigation of media representation through his film, which explores how cinema became an instrument of power and control in the country's violent political history.
---
September 21
Fidelandia
ISAIAS CASTAÑEDA / CUBA, UNITED STATES / 2017 / 77 MIN / Spanish with English subtitles
When Cuba's former dictator, Fulgencio Batista, was overthrown from power by Fidel Castro and his revolutionaries in the late 1950's, the people of Cuba were promised a better country. They were promised the opportunity to rise to a higher standard of living, but according to many struggling to survive within the population, Fidel Castro failed to deliver his promise, delivering instead a growing stagnation of an aging economy.
Fidelandia: Behind the Curtain of Cuba's Revolution takes a look at the country's current culture post Fidel's fifty-year reign, exploring how the youth deals with the influence of Western culture impacting the country by way of tourism, the use of illegal Internet, and television.
---
October 10
Vicenta
DARIO DORIA / ARGENTINA / 2020 / 69 MIN / Spanish with English subtitles
A film as necessary as it is beautiful, Vicenta explores the struggle for the right to a legal, safe, and free abortion.
Through small clay figurines and live-action news clips, the documentary narrates the real human rights story of Vicenta, an illiterate working-class woman who cleans houses for a living. During a visit to the doctor, Vicenta discovered that her teenage daughter Laura, who is mentally and physically disabled, had been raped by her uncle and is now pregnant. The law is clear: Laura can have an abortion. But the system put all kinds of obstacles in her way to prevent her from exercising her right.
---
October 8
Clandestine Childhood
BENJAMIN ÁVILA / ARGENTINA / 2013 / 110 MIN / Spanish with English subtitles
Benjamín Ávila's Clandestine Childhood (Infancia Clandestina) is an earnestly heartfelt cine-memoir based on the director/co-writer's own tragic early life. Argentina, 1979. After years of exile, twelve-year-old Juan and his family come back to Argentina under fake identities. Juan's parents and his uncle Beto are members of the Montoneros Organization, which is fighting against the Military Junta that rules the country. Because of their political activities they are tracked down relentlessly, and the threat of capture, and even death, is constant. However, Juan's daily life is also full of warmth and humor, and he quickly integrates into his new environment. His friends at school and the girl he has a gigantic crush on, Maria, know him as Ernesto-a name he must not forget, since his family's survival is at stake. Juan accepts this and follows all of his parents' rules until one day he is told that they need to move again immediately, and leave his friends and Maria behind without an explanation.
---
October 14
A Bruddah's Mind
DÉO CARDOSO / BRAZIL / 2020 / 86 MIN / Portuguese with English subtitles
Based on real events, this political drama fuses Brazilian history with international anti-racist movements. Saulo, a black introvert student and fan of the Black Panther Movement, challenges his school in the largely white city of Fortaleza.
After Saulo's reaction to a racial insult from a classmate, his teachers describe him as a young delinquent and swiftly attempt to expel him ignoring his usually calm and articulate demeanor. Outraged, Saulo refuses to leave the school until justice is done. His solitary occupation ends up challenging the school's board and mobilizes the entire community. The students did not anticipate, however, the principal's extreme reaction.
title-inside title-centered
2