The Hispanic Graduate Student Association (HiGSA) is proud to present Cinehassee, an Iberoamerican Film Festival that celebrates their people, artists, makers, and all related to these shared cultures and communities.
 The screenings are as follows:
September 14 - 20: The City of the Future (A Cidade do Futuro) sponsored by The Center of Hispanic Marketing Communications
September 21 - 27: Extra Terrestres
September 28 - October 4: Sunú sponsored by IMCINE
October 5 - 11: Everybody Leaves (Todos Se Van)
October 12 - 18: I Am The People: Venezuela Under Populism (El Pueblo Soy Yo: Venezuela En Populismo) sponsored by FAMU
October 19 - 25: Perro Bomba
October 26 - November 1: Guie'Dani's Navel (El Ombligo De Guie'Dani (Xquipi' Guie'Dani)) sponsored by Department of Art History - FSU
November 2 - 8: Negra sponsored by Department of Art History - FSU
November 9 - 15: Las Sufragistas sponsored by IMCINE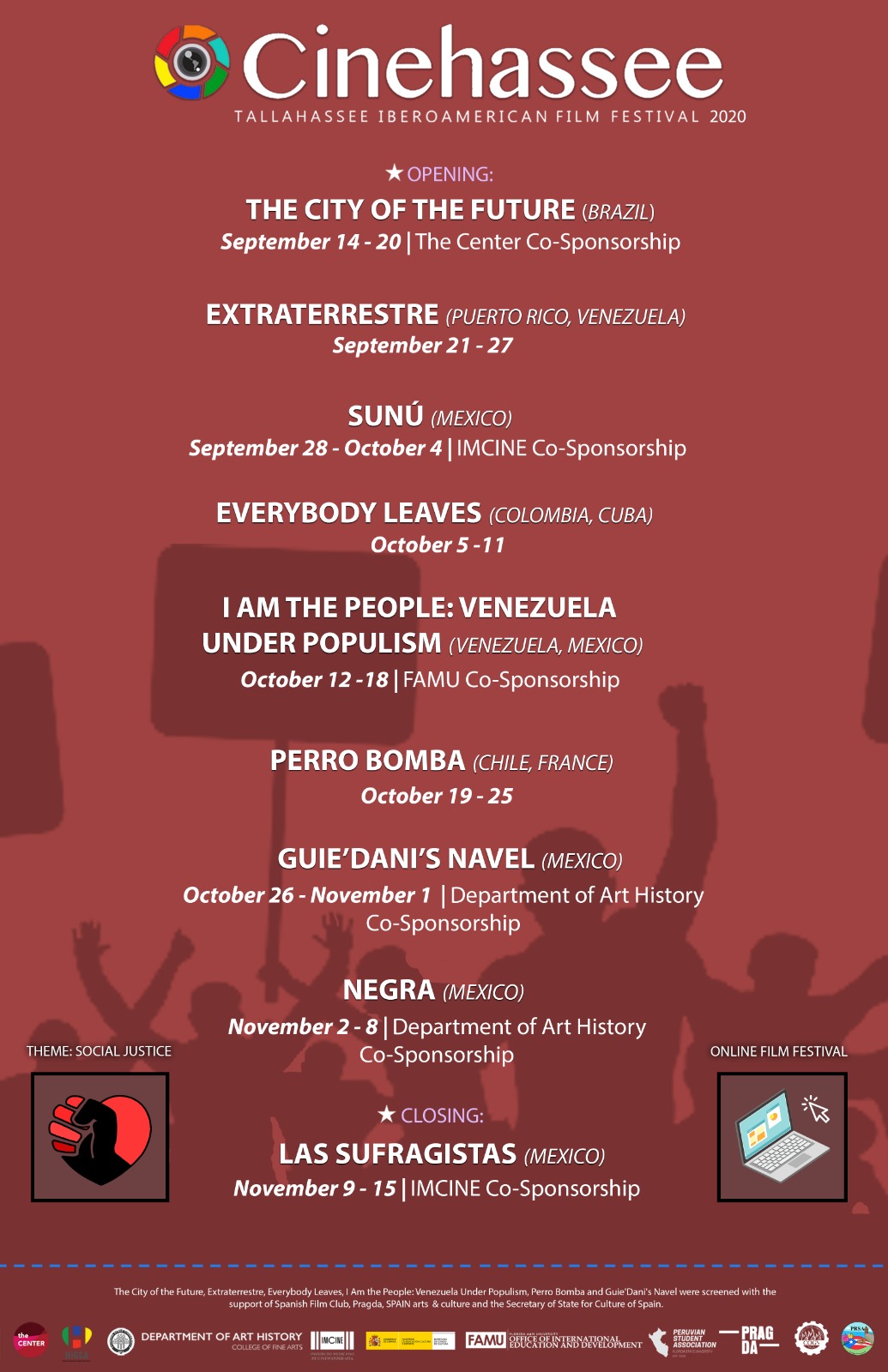 ​
The IV Cinehassee: Iberoamerican Film Festival will have an online version this year. All the movies will be available online asynchronously for your viewing convenience for one week, according to the schedule shown in the flyer.  
There will be Q&A sessions (which will be synchronous) and other resources available for you to immerse yourself in the cultures that will be seen in the various films. We just ask you to register so that we can send you the proper information to access the films.
Please click fill out this form to register: https://forms.gle/249e4n99WtTG7SMc7
Cinehassee 2020 – HIGSA
Cinehassee streams a series of films from Hispanic countries, as well as those that address topics related to the Hispanic culture. The main goal of the Festival is to provide multiple viewpoints, inform, discuss, address complex social issues, strengthen ties between our diverse community, and raise awareness on issues concerning the characteristics, importance, and impact of the Hispanic people and their idiosyncrasies.
HiGSA is an organization composed mainly, but not exclusively, of Hispanic graduate students. It welcomes anybody that is interested in learning about Hispanic culture or practicing Spanish. Part of HiGSA's mission is to promote their culture at Florida State University and Tallahassee, and to generate awareness of social and political issues in Iberoamerican countries and their relationship with the USA. Films are a very effective mean of achieving these ends. For this reason, the organization has made an effort to screen films from different countries and different topics related to its mission. We believe that diversity is valuable in any democratic society, and Cinehassee contributes to foster this value by exposing the FSU and Tallahassee community to topics, problems, ideas and realities that are different from those experienced in the city's day to day.
---
September 14 - September 20
"The City of the Future" (A Cidade do Futuro)
Marília Hughes and Cláudio Marques / Brazil / 2016 / 75 Min / Portuguese with English Subtitles
In Serra do Ramalho, Brazil, young teacher Milla finds herself pregnant by her colleague Gilmar. Gilmar is in a relationship with Igor, but Milla asserts that the baby will belong to all three of them. Despite some initial conflict between the three, and in defiance to their community's reaction, they form an unconventional but remarkably uncomplicated family. Billed as the 'city of the future', Serra do Ramalho was constructed in the 1970s in order to rehouse thousands of citizens that had been forcefully relocated. The location forms an important backdrop for this elegant, gentle film which is full of hope for a new generation building their own family of the future.
---
September 21 - September 27
"Extra Terrestres"
Carla Cavina / Venezuela, Puerto Rico / 2017 / 110 Min / Spanish with English Subtitles
Teresa is a vegetarian and a successful astrophysicist who lives with her girlfriend, Daniela, in the Canary Islands. After years of self-exile, Teresa returns to Puerto Rico to invite the family to her wedding. But the Díaz family, who lives in a rural town, are a conservative and well-to-do family who control much of the poultry industry in Puerto Rico.
No one in the family is what who they appear and none is willing to reveal their most intimate secrets, so once back home, Teresa chooses to lie. When several acts of sabotage force the closure of the family business and Daniela, tired of waiting for Teresa, travels to Puerto Rico to meet her new family, the Díaz family nucleus collapses like a supernova star, unleashing a chain reaction that puts in evidence that we are all "extraterrestrials."
---
September 28 - OCTOBER 4
"Sunú"
Teresa Camou Guerrero / Mexico / 2015 / 80 Min / Spanish with English Subtitles
Faced with the threat posed to Mexico by the cultivation of genetically modified corn, farmers struggle to preserve the traditions of their communities, the diversity of seeds, and the right to food sovereignty. 
Seen through the eyes of small, midsize and large Mexican maize producers, SUNÚ knits together different stories from a threatened rural world.  It journeys deep into the heart of a country where people realize their determination to stay free, to work the land and cultivate their seeds, to be true to their cultures and forms of spirituality, all in a modern world that both needs them and despises them.  SUNÚ reveals how maize and everything it gives life to could be lost forever, and shares a generous tapestry of simple, heartfelt messages for the farmers of the world and the city dwellers who could lose the capability to make important choices unless they act soon.
---
OCTOBER 5 - OCTOBER 11
"Everybody Leaves" (Todos Se Van)
Sergio Cabrera / Colombia, Cuba / 2015 /107 Min / Spanish with English Subtitles
Shot in Colombia (because the director didn't get permission to film in Cuba) and featuring a cast consisting mostly of expatriate Cuban actors, Everybody Leaves is a celebration of freedom and a confrontation of the authoritarian Cuban regime of the 1980s, which led to one of the country's worst economic crises. The film is based on the award-winning novel by Cuban writer Wendy Guerra.
Eight-year-old Nieve is the object of her parents' custody battle. Her mother, Eva, is an artist who believes in the revolution and disagrees with censorship or authoritarianism. She is re-married to Dan, a Swede working on the construction of a nuclear plant. Nieve's father Manuel is a playwright who sacrifices his artistic career to write government propaganda in a remote area of the country.
Through her diary entries, Nieve reveals intimate details of a turbulent family life while painting an authentic portrait of the social and political unrest in Cuba under the rule of Castro.
---
OCTOBER 12 - OCTOBER 18
"I Am The People: Venezuela Under Populism" (El Pueblo Soy Yo: Venezuela En Populismo)
Carlos Oteyza / Mexico, Venezuela / 2018 / 87 Min / Spanish with English Subtitles
In a world increasingly less transparent, where the shortcut of populism lurks to endanger democracies, I Am The People: Venezuela Under Populism compels us to ask ourselves if any society, however stable, can be considered invulnerable to a populist irruption and its consequences. Populism isn't an ideology. It's a way of governing.
I Am The People sets out to expose the skillful mechanisms of authoritarian power in the government initiated by Hugo Chávez and continued by Nicolás Maduro. The film uncovers the emergence of the charismatic leader at a time of crisis, and how ‒supported by soaring oil prices– he paved the way to seize institutions, polarize society, silence the media, and dismantle the production apparatus. All this, on behalf of the people.
---
OCTOBER 19 - OCTOBER 25
"Perro Bomba"
Juan Cáceres / Chile, France / 2019 / 80 Min / Spanish and Creole with English Subtitles
Steevens is a young Haitian immigrant living a challenging, but somewhat stable life in Santiago de Chile: he has a construction job, a home, friends, and fun.
This precariously balanced life is disrupted when Junior, a childhood friend from Haiti, arrives in Chile seeking assistance from Steevens to establish himself. Junior has entered Chile without papers and doesn't speak any Spanish. Steevens does everything he can to support his friend and even manages to get him a job with his employer. When an incident at their workplace erupts racial tensions and stokes a large anti-immigration sentiment in the city, Steveens loses his working documents. Now without a job, Steveens has to vacate his home and is left to wander the city, looking for a chance to restart his life beyond the margins of society.
---
OCTOBER 26 - NOVEMBER 1
"Guie'Dani's Navel" (El Ombligo De Guie'Dani (Xquipi' Guie'Dani))
Xavi Sala / Mexico / 2019 / 119 Min / Zapotec and Spanish with English Subtitles
In a star-making performance, Sótera Cruz brings razor-sharp intensity to her portrayal of Guie'dani, a Zapotec girl determined to fight for her dignity.
Guie'dani is dragged to Mexico City by her mother to help in her work as a housekeeper for an upper-middle-class family. There, the subtle psychological subjugation inflicted by the white family functions as a metaphor for the oppression of the old world by the new. Yet, Guie'dani rejects the life of servitude and seeks her own identity through a friendship with another rebellious teen.
A striking contrast to Alfonso Cuarón's Roma, Guie'dani's Navel is a unique coming-of-age narrative exploring the racism inflicted on indigenous people in Mexico and the empowerment of a new generation that refuses to accept it silently.
---
NOVEMBER 2 - NOVEMBER 8
Negra
Medhin Tewolde / Mexico / 2020 / 72 Min / Spanish with English Subtitles
I was about seven years old the first time someone called me "black" on the street. I turned around to see who they were talking to, until I realized it was me. That day I understood I was black, and the laughter it caused among the people nearby made me think being a black person wasn't that great… Was this only happening to me? Or did it happen to other black women? "Negra" shows the director in her search of exploring what it means to inhabit Mexico as a black woman. It tells the story of five afro-descendant women from southern Mexico, exposing racism, resistance and processes of self-acceptance, strategies for transcending stereotypes, and the celebration of their identity.
---
NOVEMBER 9 - NOVEMBER 15
Las Sufragistas
Ana Cruz / Mexico / 2012 / 77 Min / Spanish with English Subtitles
In 2008, her right to vote and run as Municipal President of her community was denied on the grounds that indigenous customary laws prohibit women from participating in electoral processes.
In Mexico, women won the right to full suffrage in 1953. Today, after a long battle, Eufrosina Cruz is a representative in Mexico's federal government, and the first indigenous woman to be a member of the Congress of Oaxaca. The Suffragists details her political struggle, as well as Mexican women's long fight for political power, beginning with the Revolutionary period. The film also considers challenges that women in power face, drawing on interviews with Mexican female politicians and Michelle Bachelet, Chile's first female president and the first Executive Director of UN Women.
title-inside title-centered
2